Drylabs combination of an onset production tool with a dailies distribution platform is taking the world of filmmaking by storm, John Mahtani tells us why!
At the beginning of January, our team caught up with John Mahtani Chief Executive Officer at Drylab Media Tech plc for a chat about his business pedigree and his exciting new position as CEO of Drylab Media Tech. It turned out to be a fascinating insight into the stellar career of John and a lesson on how to build a global brand from a successful Scandinavian on-set production tool to the world leader in the sector.
Could you tell us about your background and experience and how you came to be running Drylab as CEO
I'm a chartered accountant and entrepreneur with over 30 years of experience in media and tech.
I joined Universal & Paramount Pictures in 1993 as a Marketing Accountant.  I, then, joined Warner Bros in 1995 until 2013, where I was Vice President of EMEA. I am privileged to have worked on all 8 Harry Potter films, Superman, The Matrix, Batman & Dark Knight Rises. I managed a distribution budget of £200m, delivering content to WB Theatrical, Home Video, TV & Consumer Products.
But I always wanted to be an entrepreneur. I left Warner Bros. in 2013 and co-founded Cinelab London, which became Europe's number-one film lab. Cinelab worked on major productions such as Star Wars 8, Mission Impossible 6, Wonder Woman 2, and James Bond.
In 2021, me and Rick Senat, my previous colleague and SVP, Head of Business Affairs and Legal EMEA at Warner Bros. set up Media Tech SPAC Plc, together with Celia Li, who was a renowned anchor and media executive at Phoenix Satellite TV, which is one of the world's largest Chinese broadcasters. Our vision was to find a disruptive technology that can transform how films and TV programs are made, changing the lives of the thousands that work in the industry and skyrocketing the industry into the 21st century. Drylab was exactly what we were looking for.
Drylab AS is a leading next-generation on-set production tool and dailies platform. It was a Norwegian company based in Oslo but was used by 90% of the film productions in Scandinavia.
After months of hard work and goodwill from both parties, we signed a SPA with Drylab SA in March 2022 and completed our acquisition on 30th June of the same year.
How have you driven Drylab forward since joining and relaunching the company?
After MTS acquired Drylab, we renamed the business "Drylab Media Tech Group Plc". We focused on two things in the 6 months following the acquisition: building the team and expanding footprints.
Frank McDonnell, who was the Executive Director of Finance, Strategy & Operations at Warner Bros. joined us in October 2021 as our CFO and later CFO/COO of the combined business. Frank brought 22 years of Warner Bros. experience to our team.
Within weeks of the transaction, we made several important hires, including but not limited to SVP in Sales, Justin Lanchbury, who has over 20 years in post-production and was Director of Sales at PIX. Roy Servis, who is our Operations Director, he was previously a Manager of EMEA Solutions, European Technical Operations at Warner Bros.
 Expanding our footprint became the next immediate focus.  Our vision is to take Drylab global and within the first 6 months following the acquisition, we expanded upon the three existing distribution partnerships that Drylab AS had, to our current partnership total of nine. These partnerships encompass distribution rights across 14 countries including Norway, Sweden, France, the Czech Republic, Japan, South Korea, India, United Arab Emirates, Saudi Arabia, Egypt, South Africa, Ethiopia, Kenya, and Nigeria.
What challenges have you faced since the relaunch of Drylab?
Drylab is a household name to filmmakers in Scandinavia, yet a new kid on the block to the rest of the world.  As a result, our top priority has been brand building. Our marketing team, which is headed by our Chief Marketing Officer, Celia Li, has worked wonders in the communications sector.  Drylab's brand profile has been significantly boosted through storytelling, testimonials (including from the double Oscar-nominated film "The Worst Person in the World"), industry events, social media activity as well as industry recognitions such as BAFTA Albert, and being shortlisted as "Production Tech of the Year" at the 2022 Makers & Shakers Awards.

Another challenge we encountered is market/industry education. The Film industry is still largely dwelling on a decades-old, analog workflow process and expensive addiction to paper. Digitalization and virtualization are unstoppable evolutions that are taking place in the film industry. We believe it is the future of filmmaking and we are proud Drylab is part of it. However, change takes time. Drylab offers a cutting-edge, next-generation on-set production tool and dailies platform that replaces these traditional, inefficient, analog processes with a centralized and innovative digital solution.
How has Drylab evolved since you took the helm?
Apart from focusing on team building, market expansion, and raising brand awareness (as mentioned previously), we have greatly boosted Drylab's R&D process.
In November 2022, Drylab launched our latest feature; Rough Cuts (RC).  RC is a new extension tool within Drylab Viewer that improves filmmakers' creative control on and off set.  It is a ground-breaking innovation in the global production software industry that is unmatched by any other company.
In addition, I took Drylab team to over 8 trade shows in both North America and Europe, including but not limited to BSC London, NAB in LA, Cannes in France, TIFF in Toronto, Futureworks in India, Ciclope in Germany, and Camerimage in Poland. Drylab also proudly hosted its first industry event "Filmmakers Afternoon Tea" at last year's Camerimage, which was a sold-out event. We all know that industry events and trade shows have been a source for improving brand awareness and generating new prospect leads for many years and still play a pivotal role in many businesses' development. I am confident the seeds we sowed today will come to fruition in the coming months.
What strategies have you used to grow the company globally?
We have four pillars of revenue generation: Independent Pictures, Studios, Distribution Partners, and production houses;
To achieve the above revenue, in 2023
we will focus on enterprise deals with the US studios –
Set up 50 international resellers in key production markets within 18 months currently, we already have 14 resellers in Japan, South Korea, India, France, Czech, Norway, Sweden, UAE, Saudi Arabia, Egypt, Nigeria, Kenya, South Africa, and Ethiopia.
Approach over 100k creative agencies and production houses to use the platform as a viewer
Approach independent Film & TV productions to use the Drylab platform.
What do you think sets Drylab apart from its competitors?
Drylab is currently the only platform that combines an on-set production tool with a dailies distribution platform.
Drylab's powerful engine which can be enriched with metadata enables the rapid search function to allow filmmakers the ability to find any take in under 5 seconds.
Drylab's unique mesh technology allows the sharing of files on set to remain completely offline.
Drylab's new innovation, Rough Cuts, as mentioned before, is a groundbreaking and unmatched tool within the film and TV industry.
How have you seen the film and TV industries change in the past decade?
New cameras, filming techniques, visual effects, post-production collaboration, etc. are evolving day by day, all with the communal incentive of making filmmaking easier and more immersive.  One of the biggest developments to have occurred over the past decade that took the industry by storm was the implementation of facial recreation, digital humans, and de-aging technologies.
In production itself, virtualization has been one of the most prominent changes.  This process has been heavily accelerated by the Covid-19 pandemic.  With the restrictions forced upon populations to isolate themselves from each other, thousands of businesses and companies became reliant on the adoption of working and collaborating remotely.  As a consequence, virtual collaboration and virtual production became a necessity for people and businesses to operate normally.  Its development has rapidly increased as a result of such unprecedented times.   
 Tom Mitchell, Technical Director at Mission:
"If we're able to put assets in the cloud, then that opens up that door for us to create a fabric that connects everybody together"

Drylab's innovative technology does exactly that. Our powerful metadata engine enables the efficient, accurate, effective retrieval and processing of captured media on set, at the office, and in remote locations; enhancing the entire production process.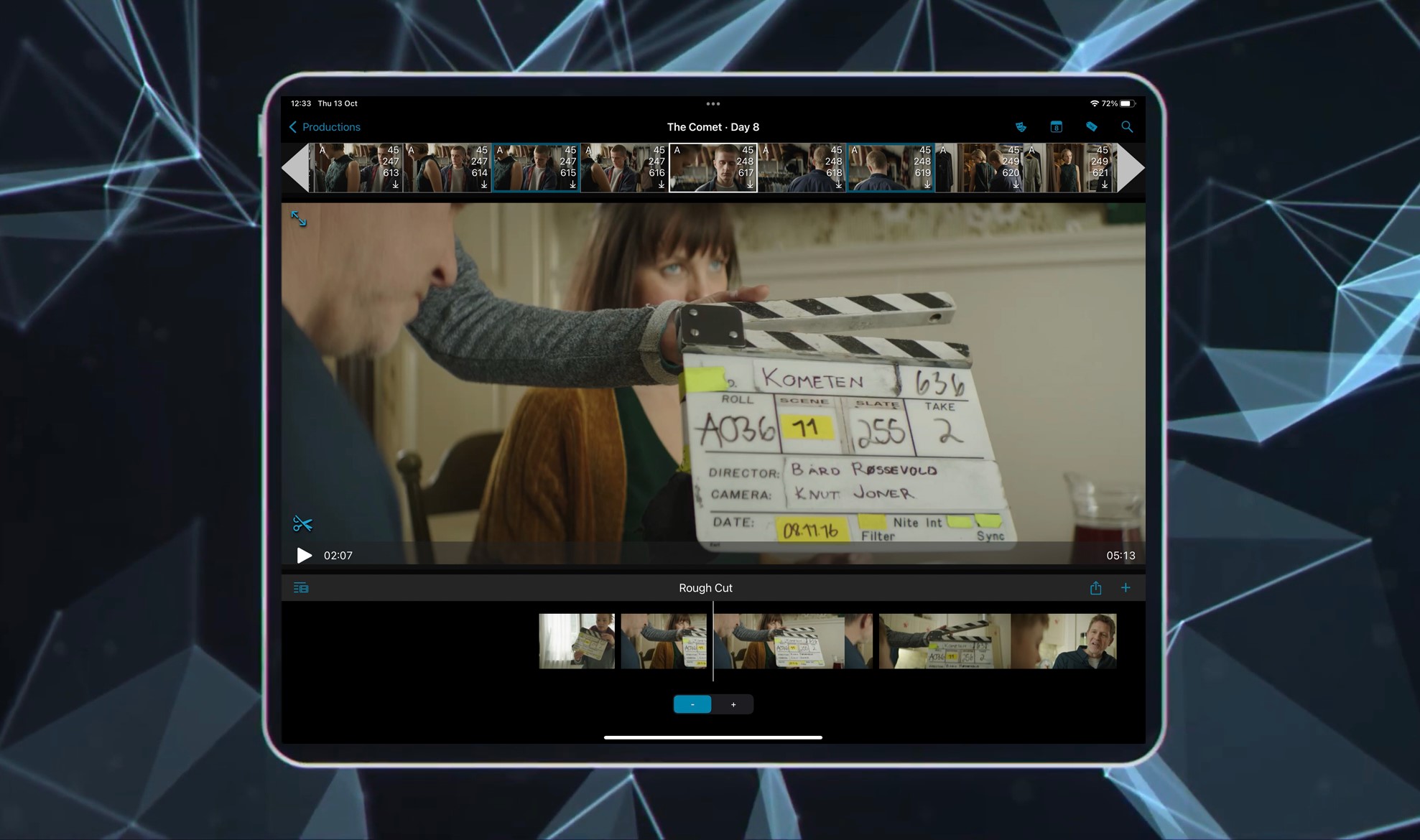 What have been the most successful and enjoyable aspects of running Drylab?
What has been extremely rewarding and enjoyable has been the take-up with all stakeholders we have presented the Drylab platform to. To have established Drylab in 14 countries so soon has been truly rewarding.  Rough Cuts which is our new initiative launched in November 2022 has been very well received as filmmakers see the value it delivers in the production process.
We look forward to expanding our global footprint with our partners, studios, and post houses also ensuring we continue to develop the Drylab platform to keep it at the top of its peers.
This Interview was first published on this website Drylabs combination of an on-set production tool with a dailies distribution platform is taking the world of filmmaking by storm – Movie Makers News UK – The Voice of the UK Film Industry