Magewell AV-over-IP Solution Helps GAORA Enhance Live Wrestling Broadcasts
---
The Customer: GAORA, Osaka, Japan
The Challenge: Enabling camera operators to get closer to professional wrestling action for dynamic shots
The Solution: Magewell Ultra Encode with Pro Convert NDI® decoders
Benefits: Low-latency and high-quality video transmission under limited bandwidth
---

Founded in 1989 and headquartered in Osaka, Japan, GAORA INCORPORATED ("GAORA") owns and operates sports channel "GAORA SPORTS." GAORA recently deployed Magewell encoding and decoding products to enhance broadcast coverage of wrestling matches by Osaka Pro-wrestling Co., Ltd.  The solution successfully freed cameramen from the restrictions of cables, enabling them to present the audience with more compelling scenes from a closer perspective.
---
Immersive Visual Content
GAORA wanted to free their videographers from cables in order to obtain more dynamic images of wrestling participants. "While closer videography of wrestling matches can create visually appealing scenes, cameramen are inevitably restricted by device cables and their assistants who manage the wiring," explained Mr. Tokunori Iwataki, at GAORA. "Furthermore, athletes can get injured by becoming tangled in cables when they get near arena borders. This makes it hard for the camera operators to follow athletes during the most exciting parts."
In order to reduce cabling, they decided to use a Wi-Fi network to transmit camera images. In this way, the cameraman also doesn't need an assistant to organize the wiring, and can follow the athletes in the venue as he wants.
Wanting to ensure low latency and high-quality video transmission under limited bandwidth, GAORA contacted Digital Processing Systems Japan K.K. ("DPSJ"), Magewell's channel partner in Japan, for a suitable solution. Ultimately, GAORA chose Magewell's Ultra Encode SDI universal media encoder and Pro Convert for NDI® to HDMI decoder to implement AV-over-IP transmission in live production.
---
Cost-Effective and Reliable Wireless Video Transmission Solution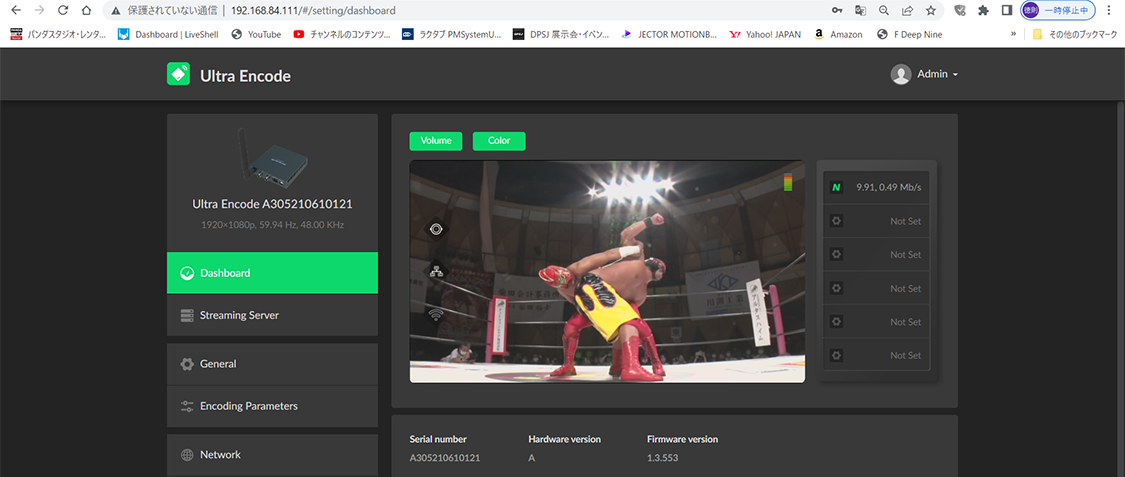 Using a mesh Wi-Fi backhaul transmission frequency of 40MHz and existing source equipment with SDI connectivity, GAORA chose to use Ultra Encode SDI to encode NDI®|HX streams with HEVC compression. This achieves low latency with high image quality while meeting bandwidth limitations. The resulting 1080p high-definition video uses 13Mbps of bandwidth. The captured video is decoded by a Magewell Pro Convert for NDI® to HDMI unit at the receiving end, and then sent to the switcher for live production.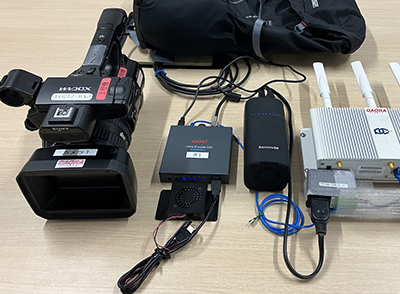 The videographer is equipped with a backpack containing a Wi-Fi access point, Ultra Encode SDI unit and a battery. The entire equipment package is highly cost-efficient, while the automatic heat dissipation of Ultra Encode SDI ensures the reliable transmission of video signals. Meanwhile, the solution's light weight does not overburden staff.
GAORA's use of an AV-over-IP workflow across a Wi-Fi network simplifies the on-site deployment, improves efficiency, and enables wrestlers and the videographer to create highlights unencumbered without any distraction.